Bitcoin Tops Crypto Awareness in the United Kingdom, Study Shows
Bitcoin takes the lion's share in terms of crypto awareness on British soil, according to a study by crypto betting firm BitcoinCasinos.
Bitcoin leads the pack with a whopping 76% and Ethereum (ETH) comes a distant second with 33% based on information gathered from online respondents in the United Kingdom (UK).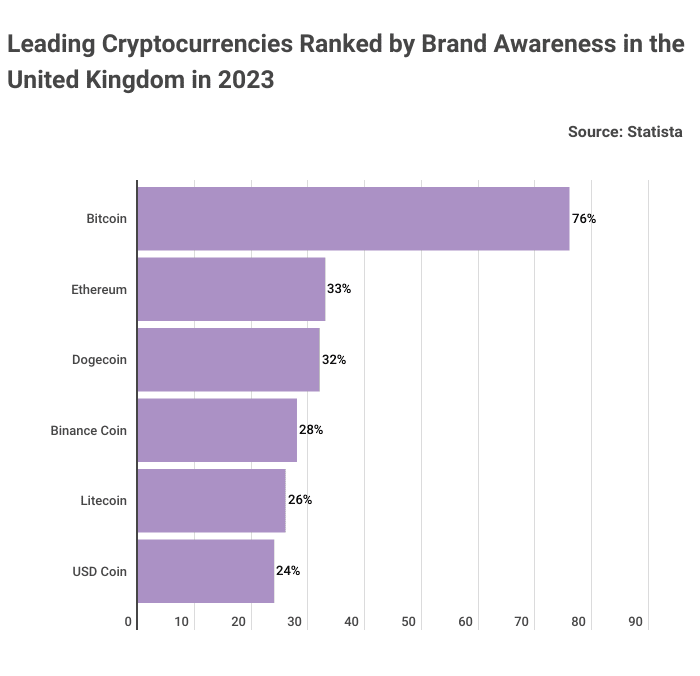 Source:Statista
The other top cryptocurrencies in terms of crypto awareness in the UK included Dogecoin (DOGE), Binance Coin (BNB), Litecoin (LTC), and USD Coin (USDC), at 32%, 28%, 26%, and 24%, respectively.
Edith Reads, a betting expert at BitcoinCasinos, pointed out:
"The recognition of Bitcoin in the United Kingdom has grown exponentially over the past few years, and it's quite amazing to see that the number of people who know what Bitcoin is has doubled since just last year. With plans for a 'digital pound' currently being considered by the government, there is no doubt that this trend will continue in the coming years."
The study acknowledged that UK citizens were eyeing the crypto space based on an influx of digital assets offered by major banks.
With different nations eyeing rolling out a central bank digital currency (CBDC), the UK is not being left behind as it continues to delve deeper into the issuance of a digital pound.
Therefore, this development is anticipated to drive crypto awareness on British soil a notch higher, given that it will act as an alternative to bank deposits and cash to both businesses and individuals.
The Bank of England (BOE), the nation's apex bank, is on high gear to scrutinize the digital pound issuance through different methods like public consultation.
Earlier this month, the BOE and Britain's finance ministry disclosed that having a digital pound by 2030 was possible, given that it would be pivotal in addressing the challenge of diminishing cash usage.
Meanwhile, the metaverse market in the travel and tourism industry is expected to reach $188.24 billion by 2026 thanks to a surging demand for augmented reality (AR) and virtual reality (VR) technology, 5G implementation, and enhanced internet penetration, Crypto Business World reported.
---
Brian Njuguna
CBW - External Analyst
KENYA